The 2023 Launch continues the legacy of a truly remarkable bike. This bike is still one of the best value priced models in the market, year after year. Available in Matte Midnight Black, Matte Cosmos Magenta, and Gloss Galaxy Silver colorways, the Launch pairs its great color selection with even better components. The Launch is equipped with both a sealed integrated headset and sealed Mid bottom bracket, which drastically improves performance and virtually eliminates maintenance of these components. Combined with a parts package that includes Kink Stryker forks, Kink T875 8.75" bars, and Mission Triumph 3pc tubular chromoly cranks, this bike is a new rider's dream.
BMX or not, Chad is about that Bike Life! Riding around towns, throwing wheelies, listening to music and laughing with your friends, that is ALL CK! So it seemed to make sense to ask Chad to come up with a bike that he would be hyped to wheelie at ride-outs. The BMF is all of that, jewelry inspired graphics, paint that pops, and fitted with BMX level components so it could hold up in the air as well. The BMX is Chad Kerley, the BMF is Bike Life.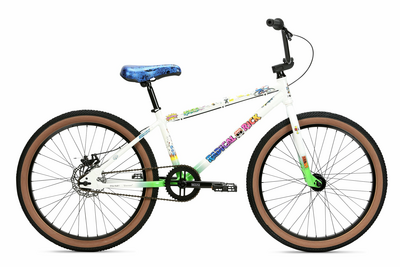 In 1979 artist Damian Fulton began drawing what is now the most iconic cartoon in BMX; Radical Rick. Along with characters like MX Mug, Spike Speedwrench and the infamous Skuzzer Switchblade, Radical Rick grew into one of BMX's most historical figures through the pages of BMX Plus! magazine. Over the course of the last year, we collaborated with Fulton to bring his art to life through these Radical Rick-themed 24", 26" and 29" models. If you're thinking that this might be the perfect combination of design, history, and bike life, we'd most definitely agree.